Senior Adults
---
We invite you to join us. Our desire is that no senior adult be left behind in their relationship with the Lord nor in their service to Him. We try to accomplish this goal by providing opportunities to grow in Bible study, prayer, fellowships, conferences, day and overnight retreats, mission and ministry opportunities and other special events. Each person is unique and has special gifts that will add to our fellowship in its service to the Lord. If you are looking for a place to belong and to feel at home in your service to our Lord Jesus, then we believe you have found the place.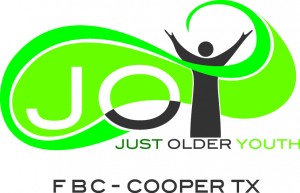 The J.O.Y. group of our Family Fellowship here has a desire to include you to walk with us, as we continue our adventure to touch our community for the Lord. We believe as age comes along in our Christian walk, we ought to be all the more excited and motivated to do something for the Lord. The Scriptures tell us that it wasn't until Moses was eighty years old that God was ready to use him (Acts 7:23,30). At the ripe old age of eighty-five, Caleb asked Joshua, "Now, therefore, give me this mountain" (Joshua 14:12). We believe that we, at this stage in our lives, are prime candidates for God to use. "Though our outward man perish, yet the inner man is renewed day by day" (II Corinthians 4:16).
We want you to know that you don't have to be a member to be a part of our activities. We welcome you to come and get to know us and, more importantly, get to know the Lord in a more intimate way.
---