Children's Ministry
---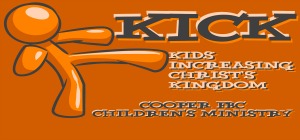 FIND US ON FACEBOOK @ 
https://www.facebook.com/FirstBaptistKICK/
KICK (Kids Increasing Christ's Kingdom) Children's Ministry. Our  goal is to reach the children and the families of Delta County and spread the good news of Jesus Christ. We desire to come alongside parents to help raise Gospel Centered children. Proverbs 22:6 "Train up a child in the way he should go, And when he is old he will not depart from it". We have a great team dedicated to come alongside of you as you lead your child to Christ.
  Kick follows the FBC Cooper mission statement
Connect with God- We will pray for the Spirit of God to stir your child's heart to worship our great and glorious King as we sing and pray to Him.
Connect with the Word- Sunday morning: We use the Gospel project to study God's Word as we set your child in age appropriate learning environment.
Wednesday night: Our Family Matters Ministry focuses on connecting the family to the Word as we eat a meal and study God's Word through various study methods. All of our worship on Wednesday night (eating, singing, studying and games) is centered around God's Word and your family.
Connect with Others- We teach the children to connect with the others through VBS, camps, local outreach, fall festival, lock-inns. Our Wednesday night Family Ministry helps families connect with other families that have children.
Connect with the World- We are mission minded so we turn our focus to reach families in our community, our school for Jesus and to bring change to our community with the Gospel.
KICK MEETING TIMES
9:30 am Sunday School Gospel Project
Darren & Denise Braddy – Preteens (5&6th)
Steve & Lacy Beuke – 3rd & 4th Grade
Deborah Cain & Monica Purviance – 1st & 2nd Grade
Katy Gifford & Amelia Brown – Kindergarten     
10:45am Sunday Family Worship
Wednesday Night "Family Matters"
Family Meal starts @ 6:00 pm
Family Bible study from 6:30-7:30 pm
Darren & Denise Braddy – Preteens (5&6th)
Steve & Lacy Beuke – 3rd & 4th Grade
Deborah Cain & Kristin Janes – 1st & 2nd Grade
Monica Purviance – Kindergarten 
Contact Information
Darren Braddy
Children's Minister
Darren389@gmail.com
903-272-5880
---